Choosing the right supportive assisted living facility in St. Clair County for your loved one can be a difficult process. There are many factors to consider when you start looking at options, and it's important that you find a place where they will feel comfortable and happy. If you're not sure what to look for in an assisted living home, then this article is for you!
Here are the top 10 things to consider before moving your loved one, who needs assistance, into a supportive living community.
Will Your Loved-One Feel Secure?
Establishing a sense of security is one key aspect to consider. The new environment and people they will be meeting should provide your loved ones with an experience that feels safe, secure, or comfortable for them in order so you can relax about their well-being.
Learn what amenities are available at the supportive assisted living facility. Are they the right amenities for your senior?
Many assisted living facilities offer amenities such as a swimming pool, exercise room, and even luxury services like massages. The most important thing to note is that the right type of amenity will depend on what your senior needs for their lifestyle; if they are not into activities or fitness then it may be time-consuming trying out all these different things
Learn more about their staffing policy. What is the ratio of staff to residents?
Some assisted living facilities have a six to one staff member ratio, meaning that there are always at least two on duty for every resident. Other homes may only offer assistance with medication when necessary or even limit the amount of help they provide residents throughout their day.
How are meals served in the supportive living community? Restaurant-style or family-style?
Restaurant-style can be good because it's a more social environment and the dining experience is similar to what they may have experienced while living on their own. Family/buffet service, which allows residents greater independence when choosing foods that appeal most. This way of serving meals also gives them time with friends or family members who visit during meals.
Does your senior want a studio, one-bedroom, or two-bedroom floor plan?
Your senior must know what their needs are and will have to live with for the coming years. A studio is a small space that may be perfect if they need less care, or it could provide more assistance in many ways.
Are supportive living facilities covered by Medicare?  
Medicare does not cover assisted living facilities. Residents pay their own rent and supplemental care, which is paid by the resident or a family member. Private insurance may help with these costs as well if they have it through work; Medicaid also helps those who qualify for this assistance program but will only do so after all other resources are exhausted.
What are the different levels of supportive living?
Generally, it is common to find communities that feature different levels of care to meet the needs and preferences for different types or groups. Generally, you'll find these different options:
Low-level services are available with minimal assistance;
Midrange offers more comprehensive support but without 24/365 supervision from a staff member present at all times (most often this is on an hourly basis);
High-level care at assisted living community or facility that offers monitoring, assistance, and services for people who are in need of help with the daily living activities. This might include medication reminders; taking care to monitor their safety by checking on them every so often through hourly checks or being available when they're needed (this is more common at night time); or coordinating a schedule where someone can provide hands.
There are different types available, from supportive assisted living facilities that provide more comprehensive support but without 24/365 supervision (most often this would be hourly) to high-level with monitoring assistance services for people who need help in daily activities such as medication reminders or checking on them every day.
How does one pay for supportive living?
Most families cover assisted living costs using their retirement savings or life insurance policy. Some families utilize long-term care policies.
What is supportive living in Illinois?
​Illinois developed the Supportive Living Program (SLP) as an alternative to nursing home care for low-income older persons and persons with physical disabilities under Medicaid. By offering personal care and other services, residents can live independently and take part in decision-making.
What is the difference between supportive living and assisted living?
The biggest difference between Assisted Living and Supportive Living is that licensed Supportive Living communities can accept Medicaid Waivers for Residents who qualify and need the related financial assistance. … are interested in ensuring the community can appropriately care for the prospective resident.
Range of assisted living services across the U.S.:
Nationwide, 28,900 assisted living facilities nationwide. Most facilities provide some basic health care services:
Access to a pharmacy: 83.6 percent
Dietary and nutritional guidance: 82.8 percent
Physical, occupational and/or speech therapy: 71.4 percent
Hospice care: 67.7 percent
Skilled nursing care: 66.1 percent
Mental health services or counseling: 55 percent
Social worker services: 51.1 percent
What to look for when you visit
Once you've narrowed down your list to a few facilities with the services and price range you're looking for, it's time to visit. When you first walk in, make sure the place is clean and well-maintained.
The residents should be smiling or seem happy overall; if they don't appear so at all times this might not feel like a good fit for your loved one's needs.
From AARP's checklist, here are some other things to look for:
Cleanliness
An emergency generator or alternative power source in case of an outage
Enough common areas, such as dens and living rooms
A floor plan that's logical and easy to follow
Large enough rooms for your family member's needs
Rooms and bathrooms with handrails and call buttons
Safety locks on doors and windows
Security and fire safety systems
Services such as banking, a beauty salon or a café
Well-lit stairs and hallways with well-marked exits
Considering Supportive Living in St. Clair County, IL? Knollwood is located in Caseyville, IL. Call us today to learn more and take a tour!
Knollwood Retirement Community
921 Knollwood Village Rd.
Caseyville, Illinois 06810
Phone: (618) 394-0569
Resources: https://www.aarp.org/caregiving/basics/info-2017/assisted-living-options.html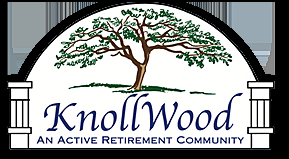 Latest posts by Knollwood Retirement Community
(see all)